Atomic Balance BioScan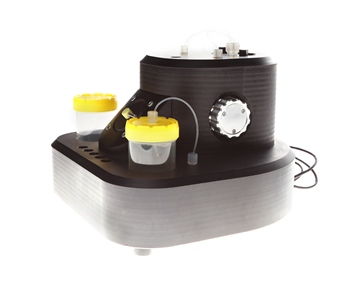 Universal cantilever sensor
Technology of the cantilever sensors theoretically makes it possible to measure the mass up to 10
-18
grams, which is comparable with the mass of a single protein molecule. To implement such a sensitive system, we have developed a unique device BioScan for the registration of the ultra-small amounts of analytes in gases and liquids. It combines the functions of biological and chemical nanosensors. Its main advantages are a record sensitivity by the mass detection, a minimum amount of the sample, multifunctionality and compactness.
«Atomic Balance BioScan» is a unique multifunctional analyzer of chemical and biological agents.
Main advantages:
The record detection limit – up to 10-14 M

Sensitivity of the cantilever deflection registration system is 1 nm

The possibility to use four cantilevers for direct multivariate analysis

The visualization of working cell with the optical camera

Analysis of the kinetics of monolayers formation and surface chemical reactions

Measurement of surface stress of thin films

The working volume of the cell is 200 ul

A convenient sample injection system

The device connects to a PC via USB-cable and requires no additional power supply

Intuitive interface
Multicantilever system «Atomic Balance BioScan» allows us to develop highly sensitive biological and chemical sensors for direct multivariate analysis. A distinctive feature of the system is tolerance to the acts of nonspecific binding.

The schematic diagram of the device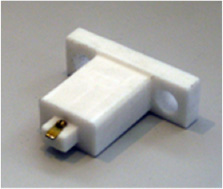 Cantilevers are mounted in the special holder
The analyzing mixture is injecting into the cell in which cantilevers are mounted and the laser beam is directing on them. After reflection from the cantilever, system of mirrors guide the beam to the detector - the matrix of the camera and the received image is analyzed by the software. Chemical reactions and adsorption/desorption processes on the surface of the cantilever causes its deflection and displacement of the reflected beam.
The «Atomic balance BioScan« is controlled by «FemtoScan VideoSense« software. The top part of the program window shows the visualization of cell, the signal on the detector and the processed signal with the color marked reflected rays. Below, the dependencies of the displacements of each console on time are plotted.